Use Your Glasses to Flatter Your Face Shape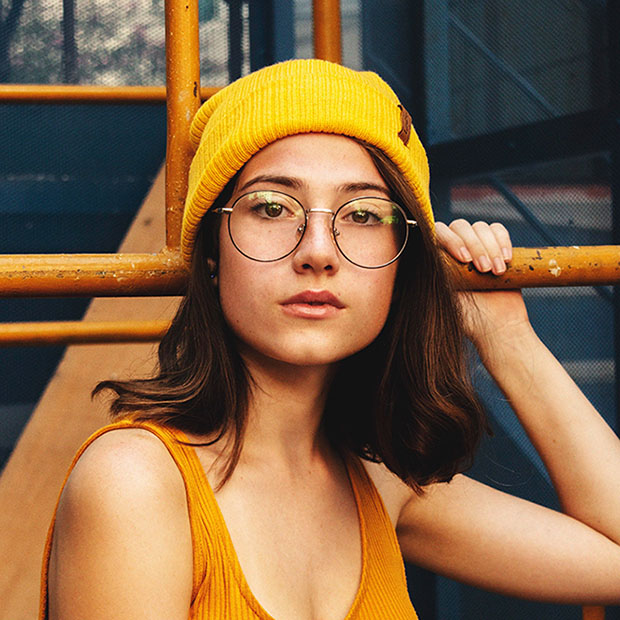 What factors do you consider when picking the best new pair of glasses for you?
We might recommend adding face shape to your list. Wearing glasses is like having a facial feature you can customize, and they're a very noticeable part of your appearance. They're a fantastic way to show off your personality and sense of style, but ideally they will do those things while also being flattering to the rest of your face.
The Shape of Your Face
People come in all shapes and sizes, and so do faces! In real life, we don't have such dramatic face shapes as cartoon characters, but you've probably noticed a few faces that are, for example, unusually square or round. A few of the typical face shapes include:
Square face: defined by a strong jawline and wide forehead, roughly as wide as it is long.
Round face: full cheeks, rounded hairline and chin, also about as wide as it is long.
Oval face: a longer, thinner round face.
Heart-shaped face: a narrow chin, wide cheeks and forehead, and maybe a widow's peak hairline.
If you aren't sure which face shape you have, you can find out easily. Just get a washable marker and stand in front of a mirror. Close one eye and draw the outline of your face. The outcome should vaguely resemble one of the shapes we described.
Which Glasses Match Your Face Shape?
Once you know which face shape you have, it's easier to find glasses that compliment your looks. In general, it's a good idea to find the opposite shape. Rectangular glasses tend to overemphasize a square face, making it look harsher, but they can add more definition to a round face. Round glasses, likewise, can soften a square face.
Other Factors in Glasses Frames
Size is also an important factor to think about, along with ones like color, thickness, and material. Your glasses shouldn't be too large or too small for your face (although those boundaries tend to be redefined by changing fashion over the years). Children can outgrow a pair of glasses, so they should get ones that look more fitting for their age and maturity (which might help if they have been reluctant to wear them as often as they should).
You could take your skin tone into consideration when choosing a color for your frames. Cool colors like dark tortoise, blue, jade, plum, blue-gray, silver, and black look better with warm skin tones. Warm colors like blond tortoise, fire-engine red, off-white, coral, orange, peach, copper, gold, or camel will better flatter cool skin tones.
Let's Find Your Perfect Frames!
If you still aren't sure where to start looking for a great pair of glasses to flatter your face, we can help! We're happy to give recommendations, and we look forward to seeing you at our office for your next appointment.
We love our patients!
Top image used under CC0 Public Domain license. Image cropped and modified from original.
The content on this blog is not intended to be a substitute for professional medical advice, diagnosis, or treatment. Always seek the advice of qualified health providers with questions you may have regarding medical conditions.